QUILTING CLASSIC Popular Second Edition is Still Available!
Quilts! Quilts!! Quilts!!! 2nd Edition,
Diana McClun & Laura Nownes

The second edition of this popular quilting classic is still available. With 26 complete patterns that are different from the patterns in the newer third edition, the book offers plenty of choices for quilters of all levels.

Written by two highly accomplished quilting instructors, this book sets the standard for excellence, taking all the guesswork out of making sensational quilts.






Customers who bought this item, also bought:

Quilt! Quilts!! Quilts!!!, Second Edition, paperback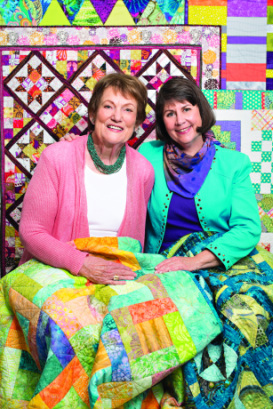 Diana McClun's passion for quilting grew from the years she was raising a family, A graduate of the University of Idaho, Diana enrolled at San Hose State University to study fine arts. Eventually, her love of fabric led her to San Francisco State University and further study of textiles. By 1980, with her training in education, art, and textiles, she opened a busienss called Empty Spools in Alamo, California, centered around fabric and quiltmaking. Since the original publication of Quilts! Quilts!! Quilts!!!, Diana has worked with Laura Nownes to inspire literally hundreds of thousands of new quilters to take up this traditional American art form. They have worked together on television, with study groups, and in seminars, inspiring others to a lifelong love of quilting. Diana and Laura have written several other successful books on quiltimaking.

---